Discover the Netherlands by bicycle
Enjoy the outdoors or actively go out. View all the options that Valkfietsen.nl offers you here!
You can rent bicycles at 30 unique locations throughout the country.
7-speed bikes and e-bikes available for rent.
Make your cycling trip complete with an overnight stay and / or a delicious dinner with one of our cycling packages.
Bring your own E-bike yourself? You can store and charge your E-bike at our locations. See the overview for more information.
Easy & fast
7-speed & E-bike
No reservation costs
Reserve now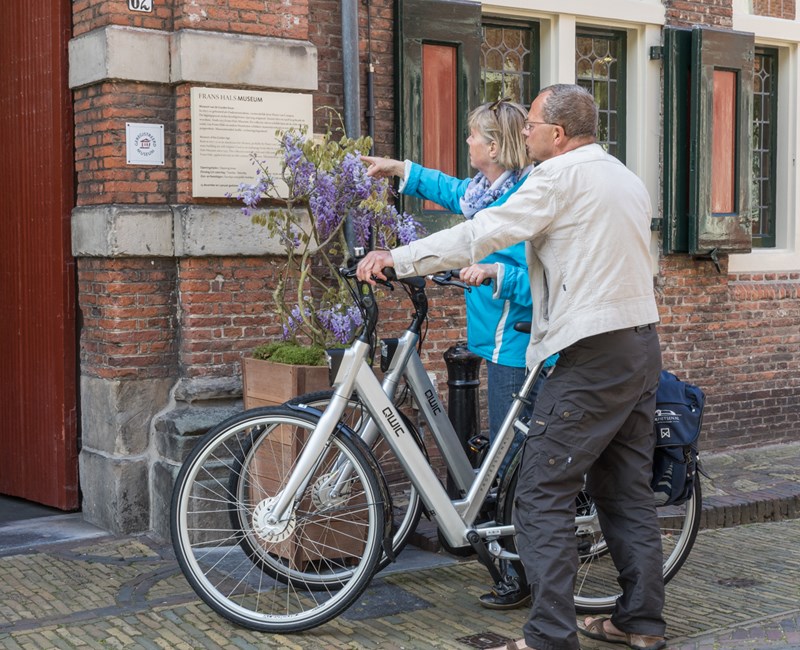 E-Bike package at Valk Exclusief
1 x Overnight stay
1 x Breakfast buffet
1 x 3-course dinner
1 x e-Bike
Enjoy the outdoors, and you don't have to bring a bike for it: your electric bike is ready with us! Together on a bike with pedal assistance into nature, onto the bike paths.
Book now
Cycling for charity!
Van der Valk Exclusief has transformed a brand new QWIC E-Bike into the Leontien E-Bike. The proceeds from this bicycle are donated directly to the Leontienhuis. The bicycle can be rented from July 25 at Hotel Harderwijk.
Reserve now
Fietsenbon coupon

Rent a bicycle in 2018 at a Valk Exclusive hotel and receive a gift afterwards! A bicycle Promotion voucher worth € 50 which can be spent on the purchase of an E-Bike (all brands) at every site of Fietsenwinkel.nl.

This special coupon can only be used at the Fietsenwinkel.nl stores and cannot be exchanged for money.

View fietsenbon.nl

Bicycle bags including lunch package

Via this website you can reserve a bicycle bag with a packed lunch on the way at one of our Valk Exclusive hotels. Each Valk Exclusive hotel has 3 bicycle routes (of approximately 20/40 / 60km) ready for you, these routes are also in the bicycle bag. You order your packed lunch, bicycle bag and rental bike simply and easily online. Your cycling day is completely taken care of!

Reserve now
QWIC E-Bike N7.1 tested as the best
De Telegraaf, in collaboration with the consumer association, went looking for the best electric bicycle with a front-wheel motor. The QWIC E-bike n7.1 clearly came out as the winner in the Telegraaf test.
Read article
Co-operation with fietsknoop

Fietsknoop is the free bicycle route planner for junction routes. Quick and easy to operate on your smartphone or tablet. Create, print and share your own cycling routes in the handy app and on the fietsknoop.nl website. Or choose a nice route from our database. Cycle your route with GPS and voice support throughout the Netherlands, Belgium and the border region with Germany. Also works offline. With all Valk Exclusive hotels on the map. The Fietsknoop app is for iOS, Android and Windows!

View fietsknoop.nl

New: fix and ride at Hotel Maastricht

The Fix and Ride is available at Van der Valk Maastricht. The Fix and Ride is a handy service point for cyclists. You can perform simple bicycle repairs at this service point. Handy for you if you have brought your own bike to the hotel.

Is your tire soft or do you want to adjust your bike, for example? Then this is possible with the Fix and Ride at Van der Valk Maastricht.

View hotel website
An entire day of cycling for everyone
Do you like cycling, but is it too strenuous to pedal for a weekend? Then consider renting an electrically driven E-bike. This allows you to effortlessly make long bike rides. The E-bikes have a radius of 60 km, provided that a fully charged battery is left on departure.
View the possibilities
Its very easy to rent the bikes and you can rent it for 24 hours!
Never miss a promotion & offer
Stay up to date with exclusive deals and 72-hour promotions
Receive tips for discounted weekend breaks
Receive the Valk Exclusive newsletter!